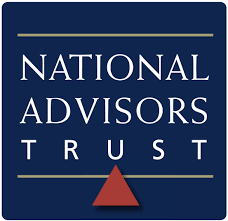 We have expanded our trust solutions for clients whose financial, family or business needs require the services of a corporate trustee, by becoming a Trust Representative Office of National Advisors Trust Company, FSB (NATC).
With $10 billion in assets under administration, NATC is one of the largest independent trust companies in the nation. It is nationally-chartered and regulated by the Office of the Comptroller of the Currency, (a bureau of the U.S. Treasury Department) It is also a member of the Federal Deposit Insurance Corporation.
By working with NATC, your KCG  Advisor and your estate planning attorney are able to create a solid, effective estate plan that helps you minimize estate transfer and gift taxes while providing a flexible trustee solution. Together, we help improve the overall transfer of wealth between generations, and help you remain confident about the future of your estate.
Your estate planning professional can work with you to recommend and establish the appropriate trust.  Families can retain as much involvement and responsibility with the trust as desired.
Individuals sometimes appoint themselves, a family member, attorney, or family friend as trustee of their trusts. We know there's no one-size-fits-all trustee solution that works for every situation. For many individuals, the administrative aspects of serving as trustee are time consuming and challenging. It may be difficult to ensure compliance with the trust document.
By appointing us to act as the agent, the trustee will still retain fiduciary responsibility, while the trust company provides asset custody, trust-style statements and trust officer support.
We work directly with the trustee to manage trust assets, help perform trust administration duties as outlined in the trust document, such as distributions, statement production, tax reporting and bill paying and achieve the stated financial objectives.
For more information, talk with your KCG Advisor.
Trust Services
Revocable trusts
Charitable trusts
Irrevocable life insurance trusts
Special needs trusts
Irrevocable trusts
Institutional trusts
Agent for trustees
Custodial Services
Securities safekeeping
Income collection from securities
Settlement of securities trades as directed
Payment of funds when directed
Timely statement delivery
Custody for alternative investments
 Retirement Plan Services
IRAs: custodian or trustee
Defined benefit plans
401(k): daily valuation platform
Defined contribution plans
Roth 401(k) feature within a 401(k) plan