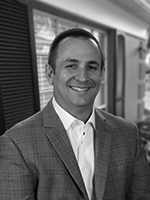 Chief Operating Officer and Chief Compliance Officer
Anthony "Tony" Van Ore has spent his entire career helping people. After obtaining his bachelor's degree in Business Administration from the University of Central Florida in 1991, a desire to help others led Tony to serve his community as a Deputy Sheriff. Five years later, he made a career change to financial services and continued his pursuit to help others by assisting individuals and families make smart decisions about their money.
Tony brings to his role as COO & CCO a diverse skill set in client services, trading, operations and management accumulated over 21 years in both the broker/dealer and RIA segments.
He has volunteered as an item writer for the Certified Financial Planner Board of Standards, Inc. and served on the Board of Trustees for the City of Casselberry Police Officers' and Firefighters' Pension Board.
In his spare time, Tony spends his time with family or enjoying his favorite hobby of motorcycling, touring the U.S. through backroads and racing on closed-circuit road courses at high speed.
Favorite Food: Pizza
What Motivates Me: Learning new things… then moving on to the next challenge.
Bucket List Item: Attend the MotoGP races at all 19 tracks in 15 countries. So far I've done one in Spain.