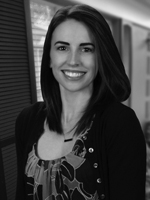 Managing Partner
Audrey's passion for educating and assisting individuals as they pursue their financial goals started in 2006 when she began her career in the industry. She received her bachelor's degree in Finance with a concentration in Financial Planning from the University of North Florida in Jacksonville. Two years prior to graduation, she began working for a local Jacksonville financial advisor and obtained her 2-15 Life, Health and Variable Annuity license.
Her tenure with Ruggie Wealth Management started in 2011, and she has served in various roles within the firm. Her career began as an Advisor Assistant, working with Senior Wealth Advisors and clientele to support daily servicing needs. In July 2012, she obtained her Series 65 Uniform Investment Advisor licensure. Thereafter, Audrey worked directly with clients as their primary investment advisor, handling new-client and investment-account onboarding, financial planning and trading. During her early years with the company, she grew into a leadership position role alongside the RWM operations team by helping to provide oversight, support and procedural process within the firm.
In 2016, Ruggie Wealth Founder & CEO Tom Ruggie began a family office division centered around clientele with advanced wealth strategy needs. Audrey has since served as the Senior Registered Client Associate for Destiny Family Office, working alongside Tom as his primary assistant. Her role encompasses coordinating family office professionals, providing seamless integration of technology and above all exemplary service to family office members of all generations.
In 2018, she was promoted to Managing Partner of Ruggie Wealth Management and continues to work primarily in the Destiny Family Office division. Audrey brings a vast array of knowledge and best-practice skills to our team, with experience, passion and a positive attitude. She continues to strive to further her industry knowledge and is in the process of pursuing her licensure as a Certified Financial Planner.
Getting to Know Audrey
Passions: Yoga, crafting, spending time with my family, playing with my dachshund – Layla
Favorite Food: Pasta! But almost anything Italian
Best Piece of Financial Advice You Received: Save first, then budget for spending
Favorite Quote: Inhale positivity, Exhale negativity
Favorite Movie or TV Show: All shows on the Food Network
Favorite Holiday: Halloween
Biggest Accomplishment: Becoming managing partner at Ruggie Wealth Management