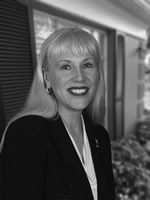 Senior Wealth Advisor
Carol is passionate about helping her clients thrive and views her role as an advisor as one in which she supports, motivates and inspires them to explore and fulfill their vision of financial success. She uses her ability to explore and analyze complex situations to create confidence in the financial decisions people make along the journey of life.
Her own journey in the investment industry began in 1984 in Boston. Since then, she has acquired numerous licenses and her Chartered Retirement Plan Specialist designation, and worked in both the retail and institutional side of the financial industry.
She combines her professional expertise and the knowledge gained from life, career transitions and long-term planning to provide exceptional client service and to handle unique situations & family dynamics, which all make her exceptionally valuable to her clients and their families.
Her thesis at Leslie University was "Pension Plans as a Necessary Supplement to Social Security" and the benefits of starting to plan for retirement early in life. She has served on the board of directors for the West Palm Beach Friends of Fisher House since 2010.
Biggest Accomplishment: Raising an amazing son who is now a U.S. Navy Aviator
Favorite Holiday: Christmas
Favorite Food: Steak