Mission
The Tom & Kim Ruggie Family Foundation
A 501 (c) (3) not-for-profit organization
The Tom & Kim Ruggie Family Foundation is helping build "community" through support of local projects that strengthen the bond of families, improve the quality of people's lives and enhance opportunities for access to life-enriching services such as healthcare and education.
Board of Directors
Thomas H. Ruggie, ChFC®, CFP®
"Hope thrives in a culture where courage, knowledge and commitment cross paths on a daily basis."
In creating his firm and Family Foundation, Tom Ruggie, Founder of Ruggie Wealth Management, has created such a culture for himself and his team. One where giving back means ensuring hospice care is available to everyone nearing end of life. Where young families can plan thoughtfully for their children's college education. And where neighbors and friends suffering from cancer, heart disease, and other debilitating conditions such as Crohn's Disease find ever-higher levels of hope, simply because their lives intersected with his.
Tom also served on the Leesburg Regional Medical Center Foundation, is an emeritus member of the Cornerstone Hospice Foundation Board (and former chairman), and works closely with Combat Veterans to Careers, all 501 (c) (3) organizations.
He also helped found the Nathan Hayes Memorial Scholarship Fund to honor a classmate of his son who was killed at the age of 10 in a tragic accident. The Foundation that bears his family's name is his passion project.
Kim Ruggie
Kim Ruggie's perseverance through adversity has inspired her to lighten the way for others.
After leaving Vietnam for America at the age of 10, Kim and her family were surrounded by an alien culture and unfamiliar language. On the path to becoming a thread in the tapestry of America, the company that sponsored them provided them with basic necessities such as food, water and shelter. Their sponsor also viewed jobs and education as being part of "the basics", and hard work and a desire to succeed eventually helped Kim and her family pull themselves out of poverty.
Kim loves her marriage to Tom Ruggie (and the man himself), their two wonderful children, and staying active through tennis and the high-impact CrossFit® program. She applies the same integrity and passion she brings to her health and relationships to her philanthropic endeavors.
One particular passion is the scholarship fund she and Tom helped create following the loss of their son's 10-year-old friend, Nathan Hayes. The Foundation has been raising funds for annual scholarships in Nathan's name, with a goal toward providing every student in Nathan and Christopher's graduating class with a scholarship to help his classmates carry Nathan's memory forward into their future lives.
Wade Boyette, J.D., LLM
It was once written, "… the most important time is now, the most important person is the one you are with, and the most important action is to do that person good." Boyette, Cummins and Nailos Attorneys at Law Founding Partner Wade Boyette seems to have made that philosophy part of his own…and part of his firm's.
Born in Estill, South Carolina, Wade came to Lake County in 1994 during a time of burgeoning growth.  After graduating from Georgia Southern University with a B.S. in Accounting, Mercer University with a J.D. Degree, and the University of Florida with a Master's Degree in Taxation,  he made his mark with a strong transactional law practice.
As the community around him grew, Wade helped organize many of the region's businesses, building lifelong relationships as well as a sense of community.  Along the way, BCN has grown as well – a fact Wade's quick to acknowledge had a lot to do with the hard work of his partners and "family" of team members.
Although the firm's practice areas are broad in scope (they handle a wide range of cases including real estate, foreclosure, bankruptcy, personal injury, family law, environmental law and disability),  he and his team welcome clients into this extended family, encouraging clients to "know your attorney, know your options."
Dr. Matt Leavitt
Dr. Matt Leavitt is both physician and entrepreneur. He is the founder of Advanced Dermatology and Cosmetic Surgery®, which, with more than 70 offices, is the largest dermatology practice in the country. A true renaissance man, Dr. Leavitt is a Board-certified dermatologist, author, researcher, surgeon, lecturer, and philanthropist.
He is also the founder and chairman of Ameriderm®, a billing and collections solutions provider for dermatology practices, and executive medical advisor of Bosley®, the largest hair restoration group around the globe.
Tapped as an expert in his field by medical and pharmaceutical companies specializing in dermatology products, Dr. Leavitt is also involved with universities, industry organizations and medical journals. We are proud to have him as a friend and on our board.
David Maus
Florida is the adopted home of acclaimed businessman David Maus, and Central Florida has particularly benefited from having him as a part of our community. Originally hailing from Ohio, David was tapped to become the store manager of a Kissimmee Toyota dealership in 1993, which began his illustrious career in the automotive industry.
An avid (fan)atic of the Miami Dolphins, David QB'd his store to success and by 2003, the "David Maus" name graced its first dealership in Longwood – David Maus Toyota. David's skyrocketing success has led to several other top-ranking car dealerships in the Central Florida area, including David Maus Chevrolet and Volkswagen.
In addition to being a part of our board, David also spearheads a variety of philanthropic works through the David Maus Foundation.


Grant Recipients
The Tom & Kim Ruggie Family Foundation and Ruggie Wealth Management are proud to support a number of organizations in our community including the following:

Combat Veterans to Careers

Combat Veterans to Careers (CVC) was founded in The Villages in May 2012 with the commitment to serve our nation's combat veterans and their families. Since its inception, the not-for-profit organization has helped more than 25 veteran families in the area with education, employment, housing and wellness.
CVC has partnered with local residents, clubs, businesses, colleges and VA offices to bring combat veterans and their families "home" to a community that embraces them and provides education, understanding and meaningful employment to minimize hardships.
In addition to counseling, housing, career and educational opportunities, they provide veterans with opportunities to deliver services beyond themselves and to transition back into civilian life.
Hoops Scholarship Foundation
Tom and Kim Ruggie and family are proud to support the HOOPS Scholarship Fund – a non-profit 501(c) (3) started in 2011 by former NBA Player & European Champion Pat Burke and his wife Peyton. Since 2011 this Scholarship Fund has affected the lives of children in our area and awarded 286 scholarships. The organization's mission is to utilize basketball as a vehicle for supporting our community's youth with life challenges and providing leadership opportunities both on and off the court. HOOPS Life programs and camps introduce young people to important life skills that may help them overcome obstacles, raise self-esteem, and enhance their lives at home and school.  Funds are raised throughout the year by donations.
Leesburg Regional Medical Center Foundation
As the philanthropic arm of Leesburg Regional Medical Center, the LRMC Foundation, a 501 (c) (3) not-for-profit organization, provides opportunities for everyone in our community to be involved in developing the resources of Leesburg Regional Medical Center and to support those who save lives, care for new life, restore health and ensure a healthier future through research.
This philanthropic support of excellence in healthcare enhances the lives of patients, their families, their loved ones and the community. The Tom & Kim Ruggie Family Foundation and Ruggie Wealth Management are proud to support the efforts of the LRMC Foundation.
Nathan Hayes Memorial Scholarship Fund
We have been touched and humbled by your outpouring of generous support for this project which has very special significance to our community and to the Ruggie Family personally. A Memorial Golf Tournament sponsored by Ruggie Wealth and David Maus in Nathan's name was a huge success. Whether your contribution was financial, in-kind, emotional or as a volunteer, the Hayes family and Tom and Kim Ruggie and family thank you from the bottom of our hearts.
A special shout-out to the following:
Presenting Sponsors
David Maus Automotive & Foundation
Ruggie Wealth Management
Gold Sponsors
Advanced Dermatology & Cosmetic Surgery
Hartford Mutual Funds
Silver Sponsors
Malcolm Yawn Photography
North American Substation Service, LLC
Panera Bread
Russell Investments
Smallwood Signs
PRfect Creative
401K Generation
Lunch Sponsor
RS Investments
Toys for Tots
Every holiday, Ruggie Wealth staff and friends collect new toys to brighten Christmas and Hanukkah for deserving children and their families.
A Gift for Teaching
A Gift for Teaching connects with the Central Florida community to improve public education by providing resources and surplus materials free to teachers for their students in need. Teachers shop for necessary supplies like books, backpacks, paper, crayons, hygiene items, even new socks and underwear.
Over 60% of students in the tri-county public schools can't afford lunch, let alone school supplies. These children, the future leaders of our community, show up to school without the tools they need to be successful.
Our support helped:
motivate personal and academic growth and success
offer a positive, constructive outlet
provide a sense of stability
nurture creativity
develop dreams for the future
enrich the lives of our young people
Year round, AGFT is in need of regular supplies like: crayons, pencils, notebooks, glue, although all related items are appreciated. Please bring new/unused items for donation to either of our Ruggie Wealth Management offices.
Ronald McDonald Charities of Central Florida
Ruggie Wealth Management spotlighted its support for Ronald McDonald House Charities of Central Florida, which creates and supports programs that directly improve the health and well-being of children and families. Ruggie Wealth offered to match client and employee contributions up to a total of $5000 and with that $5000 contribution to the charity's Share-A-Night Program, we were able to provide 80 nights of lodging to families of children in need of medical care.
Treats for Our Troops
The Ruggie Wealth team was joined by people in our community in honoring our men and women serving in the military. Personal items and snacks were gathered for shipment to remote areas where our troops don't have access to a PX or Commissary (store on base). As you can see from the photo (which shows a few of the items donated), good things do indeed come in small packages. We are proud to honor those who serve our country.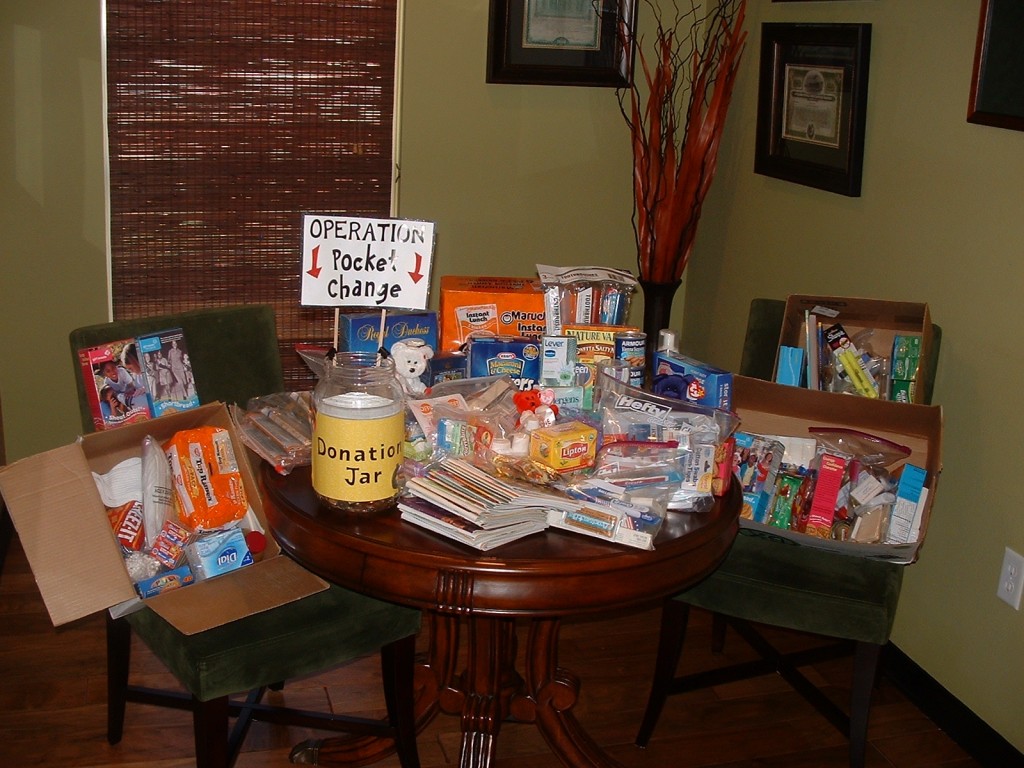 Ruggie Wealth and the Tom & Kim Ruggie Family Foundation also support numerous other charitable organizations including Cornerstone Hospice, Lake Cares Food Pantry, Leesburg Humane Society, and Lighthouse.
Subcategories