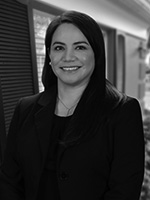 Client Relationship Manager
Since Christina's first job in a stationery store, she has strived to provide clients with outstanding and attentive service and support. Today, with an impressive work history that includes Client Services Representative, Regional Advisory Consultant, Internal Sales Consultant, Registered Oil & Gas Broker, and Systems Administrator, she is an invaluable resource and talented problem solver who makes a positive impact on those she meets.
Christina adds a depth of knowledge and understanding to any situation.
The Texas native holds a bachelor's degree in Business Administration from Texas A&M University and located to Savannah in 2016. She and her husband enjoy exploring historic Savannah, a community she loves to be involved with.
Getting to know Christina
Place I'd most liked to visit: Greece
Favorite Holiday: Christmas
Favorite Food: Chinese
Favorite quote: When you have more than you need, build a longer table, not a higher fence.
Destiny Wealth Partners