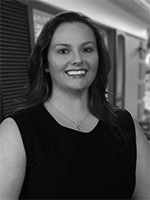 Senior Wealth Advisor & Partner
From investors in the initial stages of planning and creating their financial futures, to those needing to manage their wealth, Morgan brings a range of services to her clients to help them reach their financial goals, including holding educational seminars for retirement plan participants. "I give advice to my clients as if they are my own parents or grandparents."
A graduate of the University of Central Florida with a degree in Finance, she not only has a depth of financial knowledge and knowledge of retirement products such as 401 (k) plans, she knows the local market and has had a strong presence in the community for many years. Morgan is a part of the 2019 Leadership Lake County Class.
She was named a Five-Star Professional Wealth Manager in 2016
Getting to Know Morgan
Passions: Roller skating, feeding the cows on our property, spending time with family and friends.
Best Piece of Financial Advice You Received: If you can't afford to pay for it now, then you shouldn't buy it.
Favorite Quote: My life is mine.
Hidden Talent/Skills: Roller skating
Favorite Holiday: Thanksgiving
Biggest Accomplishment: Buying property with my husband, where we will build our forever home.