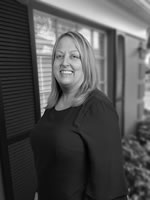 Director of First Impressions & Client Relationship Manager
Involved with all aspects of Ruggie Wealth Management, Sarah serves as the firm's nerve center, coordinating several responsibilities to provide smooth operations so that client service is sustained at peak efficiency. Her duties include client coordination, servicing client accounts, managing advisors' calendars, life insurance processing and facilitating all internal and external communications – as well as assisting with day-to-day needs.
Sarah began with Ruggie Wealth in 2002, and made office management her specialty from the beginning of her career. Her formidable experience includes more than 10 years improving inner-office procedures at two other companies. Strong communication skills, efficiency and the willingness to accomplish the task at hand are among the professional abilities that allow Sarah to excel.
A native of Luray, VA, Sarah lives in Eustis with her husband.  In her non-work time she enjoys spending time with her two granddaughters, bike riding, local wine tastings and traveling.
Getting to Know Sarah
Bucket List Items: Attending the Kentucky Derby and traveling to Alaska.