Individuals
Ruggie Wealth Management provides comprehensive financial planning and investment services to individuals and their families. We are committed to developing an understanding of your unique situation to create a customized plan that places your best interests and long-term goals at the forefront.
Ruggie Wealth Management is able to implement our investment recommendations across a broad spectrum. We manage core assets like fixed income and domestic stocks which are supplemented with investments in asset classes such as international stocks, nontraditional fixed income, and alternative investments. Our approach is grounded in active management, concentration within portfolios, risk management, and cost containment.

Roots of Our Investment Philosophy
Our investment philosophy is built around several core ideas: taking a long-term view, conducting fundamental analysis, engaging in proactive management of portfolios, creating both active and passive investment strategies, being opportunistic yet disciplined, and avoiding unnecessary risk. Using this approach, we believe we have been able to serve our clients well throughout varying economic and market conditions. This investment philosophy underpins the products and services we offer our institutional clients.
Long-Term
We are not short term or market timers
Fundamental
We perform intensive research on investments
Opportunistic
We seek and explore opportunities as they come
Disciplined
We remain true to our principles

Ruggie WealthCare
Ruggie Wealth Management Launches Ruggie WealthCare®
New scientific reports tell us that 72 is the new 30 – in fact, increased life expectancy has left many people unprepared for the cost of a healthy, enjoyable retirement – one that has the potential to last for decades.
Ruggie WealthCare® is an exciting new initiative of nationally-acclaimed Ruggie Wealth Management, more than 25 years in the making. This unique four-step financial-planning process and ongoing action strategy can help provide retirees and those nearing retirement with financial peace of mind.
The opening in 2014 of our newest office in The Villages demonstrates our commitment to helping retirees get the most out of their retirement – even if it lasts for decades. We're committed to helping provide answers to vital questions such as, "Where are you financially right now?", "Where do you want to be?", "Do you have enough resources to last throughout your retirement and if not, what else can you do?",  "Are you asking the right questions?", and "How do you know your financial advisor is working in YOUR best interests?"
The Difference Between A Dream And A Goal Is A Timeframe For Making It Happen.
Whereas most four-step processes start with a meeting, then getting to know your goals, then looking at your risk tolerance, then creating a strategy, then meeting again to discuss the strategy, then figuring out where to invest your resources, then getting together again to discuss it, and on and on and on… our four-step approach quickly puts verbs in sentences and strategies into action. We evaluate the correlation between the money you have, the money you need and when/how long you will need it to enjoy life to its fullest.
Because we believe in the importance of reporting and accountability, we strive to eliminate layers of complexity in our methods of reporting. When possible, we create one convenient account with one statement and a single, unified view of your entire investment strategy performance. We also believe in communicating with you about your plan on an on-going basis and have put many steps into our internal systematic process to assist you on an on-going basis.
Choose your Financial Planner as Carefully as Your Heart Surgeon.
Living a retirement full of activity with decades of health, happiness, and prosperity depends, to an ever-increasing degree, on the action you take now.
Talk to us today to check on the health of your retirement finances. Call 352.343.2700 to schedule your WealthCare checkup.

Personalized Plans
Individual components of our wealth management approach come together through a comprehensive suite of services. Our analysis of your retirement intentions, employee benefits, and estate plan establishes a foundation for personalized asset allocation recommendations, as well as specific investment strategies. We work to optimize your plan in an effort to minimize your fees, decrease your tax exposure, ensure readiness for important milestones including education funding, mitigate insurable risks, and maximize the impact of charitable gifts.

Estate Planning & Philanthropy
Creating an estate plan as part of your comprehensive financial strategy can be one of the most effective ways of lowering estate taxes, while providing for your family and leaving a legacy for the future. As your estate planning partner, Ruggie Wealth Management may:
Coordinate with your attorney and CPA to implement your estate plan from beginning to end
Retitle assets to reduce or eliminate estate taxes or avoid probate
Conduct routinely scheduled planning reviews
Review and coordinate your philanthropic/charitable contributions

Asset Allocation
By developing an understanding of your financial picture, we select a combination of investments well suited to your long-term goals, income expectations, and risk tolerance. We view this process as an ongoing endeavor which maintains alignment between strategy and execution and helps to safeguard you from common investment mistakes.

Retirement Analysis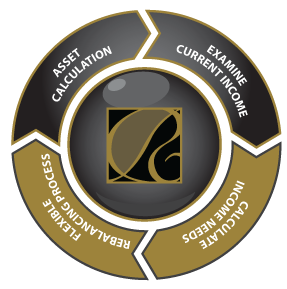 We develop personalized projections based on conservative assumptions, creating a realistic path to your goals. By analyzing multiple scenarios, we estimate potential outcomes and make informed decisions regarding the most appropriate solutions. We monitor your investments and communicate where you are in meeting your goals on an ongoing basis.
Our innovative Ruggie Method Distribution Strategy replaces conventional evaluation processes which determine how and when an individual's retirement savings should be distributed, with a new statistical method. This Ruggie Method Distribution Strategy is also ideal for helping foundations determine the optimum annual distribution of their portfolio balances.

Tax Planning
Our advisors provide guidance about strategies that could impact your tax situation. We collaborate with you and your tax advisor to make sure we are all working toward common goals.

Insurance Analysis
It is our goal to provide you and your family with a sense of safety and security by evaluating your current insurance strategies (ownership, beneficiaries, and so on), and also by identifying any potential gaps in coverage that unnecessarily increase your exposure to various insurable risks. Through our strategic alliances we are able to offer you a wide array of insurance choices.

Employee Benefits Analysis
We work to help you understand the value of the employee benefits which are afforded to you and to develop ways to maximize and integrate them into your overall financial plan. Our analysis and recommendations cover stock option exercise strategies, investment options and allocations, and compensation elections, among others.

Education Funding
We understand the importance of saving to meet your goals for financing your children's or grandchildren's education. Tom Ruggie was appointed by the Governor to the Florida Prepaid College Plan which manages more than $10 billion in assets and serves over 80,000 college students annually, and served as its vice-chairman until 2013.   
At Ruggie Wealth, our analyses enable us to recommend the funding methods and saving strategies that position you to meet your goals for financing your children's or grandchildren's education. We create projections, help you implement your plan, and monitor its progress on an ongoing basis.

Investment Strategy
Ruggie Wealth Management's investment strategy reflects our belief that the days of simply buying and holding a portfolio of stocks, bonds or mutual funds are long gone. Today, dozens of asset classes with broad diversification are available to help protect your portfolio against extreme market volatility. Ruggie Wealth Management looks at the entire global financial market to find these opportunities.
Our team goes through a comprehensive discovery process to learn who you are, what's important to you, and what your interests, values and dreams are. We then go through a strategic proprietary process to help you set an investment course which evaluates the correlation between the money you have, the money you need and when you will need it. Once your investment course is set, we are here to stand beside you as you face every significant financial decision throughout your lifetime.
We believe that true wealth-building is achieved in this manner. And our clients have consistently told us of the peace-of-mind they experience as a result of having a well thought-out, understandable strategy which helps protect their portfolios while providing opportunities for growth.

Managed Portfolios
Every client portfolio is managed in-house. Because we seek to build long-term, exclusive, collaborative relationships with each client, we are able to build each portfolio — from the ground up — with careful security selection that is flexible enough to go well beyond equities and fixed income to sophisticated alternative investments.

Advance and Protect
The world has changed. Shouldn't your investment strategy?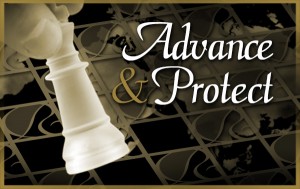 We believe buy and hold is not a prudent investment strategy. Instead, Ruggie Wealth Management's Advance & Protect Strategy takes a pro-active rather than reactive approach to investment. Instead of simply buying investments and holding them in the hope they will keep rising in value, we carefully watch the markets and conduct research daily to try to spot trends early. That allows us to alter the make-up of portfolios if we believe conditions are going to change.

RWM Alternative Portfolio
We provide our clients with a variety of ways to diversify their assets and to potentially earn greater risk-adjusted returns on those investments. We remain actively involved in research on niche and alternative opportunities to help us identify opportunities that may be overlooked by other investors. These may include:
Real Estate
Hedge Funds
Private Equity
Other Real Assets
Customized Hedge Fund Portfolio Solutions
With our customized hedge fund portfolio services, you can access institutional-quality hedge fund portfolios and invest like the world's most sophisticated investors.
Institutional-Quality Investments

Custom Portfolios
Transparency and Reporting
Institutional Safeguards
Investor Support
Streamlined Execution
20 Years of Hedge Fund Experience

Communications
Wealth Management is more than just helping you arrive at your destination – it's helping you navigate every turn along the journey. We can't stress enough the importance of maintaining and updating your plan, and then remaining in communication on an ongoing basis. Guideposts, which we lay out in our Ruggie Wealth Client Roadmap, will help you plan the best routes around difficult financial travel spots and help to ensure you stay on course on your financial road to success. Some of the ways you can expect us to do that include:
RWM Weekly Commentary
RWM client events
Portfolio-manager conference calls
Updating of comprehensive financial plan
Investment strategy/RDS/investment  management
One-page analysis updates
Performance reporting/online reporting
Trade notifications
Proactive contact by team member(s)