Personalized Investment Plans
Individual components of our wealth management approach come together through a comprehensive suite of services. Our analysis of your retirement intentions, employee benefits, and estate plan establishes a foundation for personalized asset allocation recommendations, as well as specific investment strategies. We work to optimize your plan in an effort to minimize your fees, decrease your tax exposure, ensure readiness for important milestones including education funding, mitigate insurable risks, and maximize the impact of charitable gifts.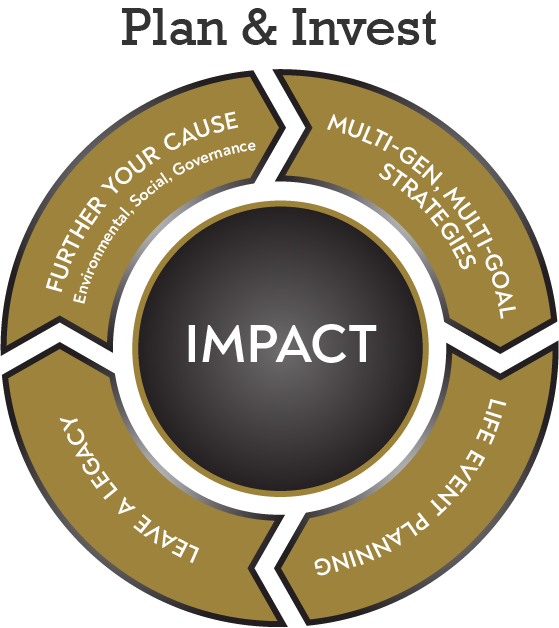 KCG recognizes the family dynamics involved with goals-based investing, wealth transfers and life-cycle planning; the importance of not only financial, but social and human capital to your IMPACT in this life.  We provide  meaningful guidance to complete your personal vision for yourself and others, coaching you toward your goals, advocating for your best interests and keeping you up to date with our progress on your behalf.
Kimberly Good has voluntarily pursued a robust, specialized education that is aligned with these important principles.  She holds the Certified Financial Planner™ (CFP®) designation, reflecting an advanced professional education with a focus on accumulation-growth-consumption/life-cycle planning; The CIMA® certification program, a master's-level education for advisors who desire to serve their clients with the most sophisticated investment and portfolio-management knowledge, and includes the Certified Investment Management Analyst Program at The Wharton School.
Not only does The CIMA® certification require 40 hours of continuing education (CE) every two years, Kimberly also maintains CE for the CFP®, CLU, ChFC® designations and is currently enrolled as a CPWA® Candidate, which includes the Certified Private Wealth Advisor Program at The Chicago Booth School of Business.
Kimberly Good, KCG, and its Representatives are committed to maintaining the highest ethical standards, applying the principles of The Code of Professional Responsibility provided by the Investment & Wealth Institute, and is subject to disclosure through FINRA's BrokerCheck.