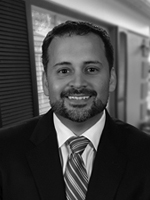 Senior Wealth Advisor & Partner
Jorge A. Romero is a CERTIFIED FINANCIAL PLANNER™ practitioner (CFP®) and began his career in the financial services industry in 2004 after having served honorably in The United States Marine Corps.  Jorge's focus is on the establishment of strong and long-lasting relationships with clients by addressing their goals and dreams through a holistic, comprehensive and disciplined financial-planning process.  Jorge also consults on a variety of personal financial topics such as asset allocation design, portfolio analysis & risk management, and retirement & estate planning.
Jorge received his Bachelor of Arts in Political Science and Pre-Law along with a Minor in Latin American Studies from The University of Central Florida in 2008.  He is currently pursuing a Master of Science in Financial Planning and Taxation and is a member of The Financial Planning Association of Central Florida, as well as the Estate Planning Council of The Villages®.
In his spare time, Jorge enjoys spending time with friends and family; he is also an avid reader of history, international relations and linguistics books.  Jorge speaks Spanish, some Italian, and French and is always trying to learn new languages.  He also loves cycling, both outdoor and on his Peloton®, as well as tennis, and learning about wine.
Getting to Know Jorge
What's Your Favorite Food: Aged Prime Steak
If I Could Meet Anyone, Past or Present, It Would Be… Albert Einstein
Favorite Book: One Hundred Years of Solitude
Favorite Movie or TV Show: Forrest Gump
What Motivates You? Solving Complex Problems
Favorite Holiday: Festivus
Name Something on Your Bucket List: Learn to speak Farsi
Place You'd Most Like to Visit: The Mariana Trench